Discover more from Illustrated Musings
Inspiring Hope, despite PTSD
Have you ever watched children in a playground? They so easily and naturally seem to connect and make friends. When my boys were little they would play for ages with a newfound playmate. They would come running excitedly back to tell me about what they and their friend were doing. If I asked their friend's name they invariably would not know. As I was reflecting on this last week it dawned on me that in the playground other than playing nothing else matters. Children do not need to know names, check out an accent, match skin colour, know an address, or enquire re parental occupation! They just connect in mutual activity. It is really precious. I find it sad that as we grow we take on bias and judgment.
Listening to a podcast this morning I discovered it was National Haiku (a type of short poem from Japan) Day. I've written a haiku and drawn an illustration to capture my musing.
Beautiful playground
Fabulous discovery
Where we find new friends
One really needs a friend to enjoy a seesaw. But what about in our complicated grown-up world? Do we have any playgrounds in our adult lives? I think some of us do however we all could do with more.
There was nothing fun when my son struggled with his mental health. I desperately needed support. I joined Parenting Mental Health's Facebook community. It was in their Creative Connections live group sessions that I had fun and found new friends. That space was truly a 'Beautiful Playground' for me. I have friends today from there who have continued to cheer me on and cheer me up.
It's not just new friends. Taking an 'old' friend to your playground or joining them in theirs can strengthen and build deeper connection. Prof John Gottman (psychologist) says "Friendship is at the core of a strong marriage" The Gottman Institute has a bog about simple ways to strengthen friendship in your relationship.
Over the last few months, I've done a pottery course. I loved it, I've definitely been in a playground making new friends. Ceramics is really not Julian's (my husband) thing however, he does like chemistry and fire….so I invited him to join the final Raku firing evening at Fairfield Ceramics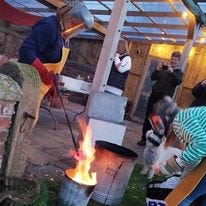 That evening was such a lot of fun. We strengthened our friendship over science, smoke, and fire.
Here are my Raku sheep and little beach huts:
Do you visit any beautiful playgrounds? I'd love to hear about them in the comments. Would you enjoy some more connections? Do you have any ideas of where you could go play?